RIP DMOZ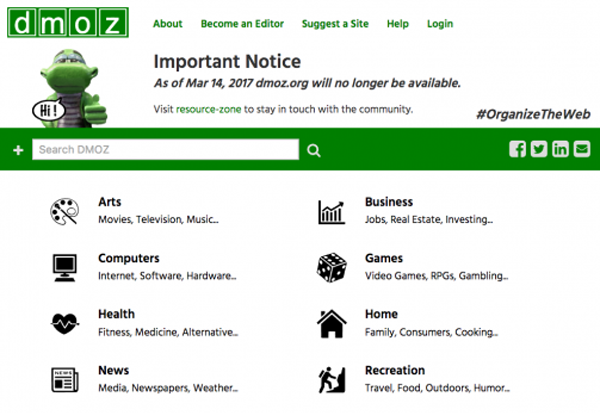 When I first started in SEO in Marbella back in 2003, one of the first things we would attempt to do for a business was get a DMOZ listing. Back then it had a credibility tag and a 'back-link' boost if you could get in the directory.
In fact it was almost a requirement for SEO.
However over the more recent years and the roll out of the Google Penguin algorithm back in 2012, directory links were earmarked as 'generally bad quality' and this essentially killed off many businesses that had spent years developing complex directory websites.
We saw Yahoo close its once famous directory on 26 December 2014 after 20 years of existence. Again before Penguin is was a real business model for Yahoo where they charged businesses annually to be included within the directory. But once Google rolled out Penguin and outlawed paid links for ranking purposes, Yahoo didn't really have much choice. People were requesting the removal of links in case Google hit them with a link spam penalty.
Now after 18 years in service, having launched in 1998, DMOZ will cease to be. It has no place on SEO anymore and is basically surplus to requirements. That said it is a sad day to see such a large site that was edited by approved volunteers disappear.
RIP DMOZ it was a blast!
DMOZ will officially close on 14 March 2017
Related posts