Intrusive Interstitial Penalty
Mobile search is for ever changing with new technology being introduced all of the time to speed up the experience via mobile devices. We have seen Google's ranking algorithm updated to penalise non-friendly mobile sites (although they are about to drop the description that states this in search).They have also recently championed the introduction of Accelerated Mobile Pages (AMP), an open source project to make mobile web pages lighter and even faster.
However, for the first time in many months we are seeing Google categorically state that they will penalise sites (drop their ranking in Google), for those that use non-compliant pop-ups.
They call them ' interstitials ' and they have given some clear examples of what they consider to be 'intrusive interstitials'.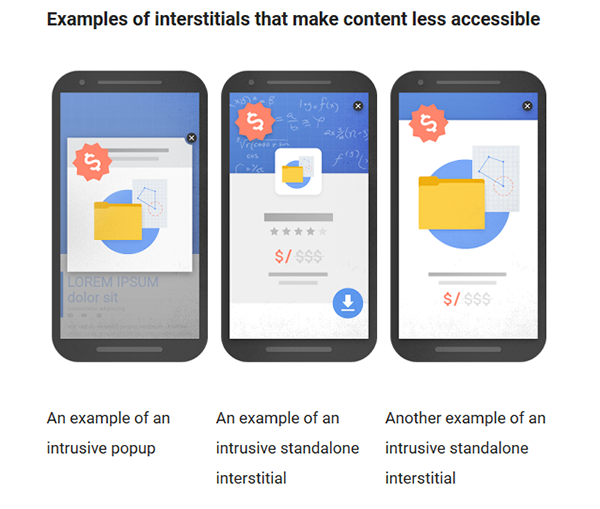 Source: Googleblog
Essentially they do not want pop-ups to interfere with accessing the original content of a page. It does not matter whether you can see the content beneath a transparent overlay; it will still be considered intrusive.
There are some that they will allow such as Cookie usage warnings etc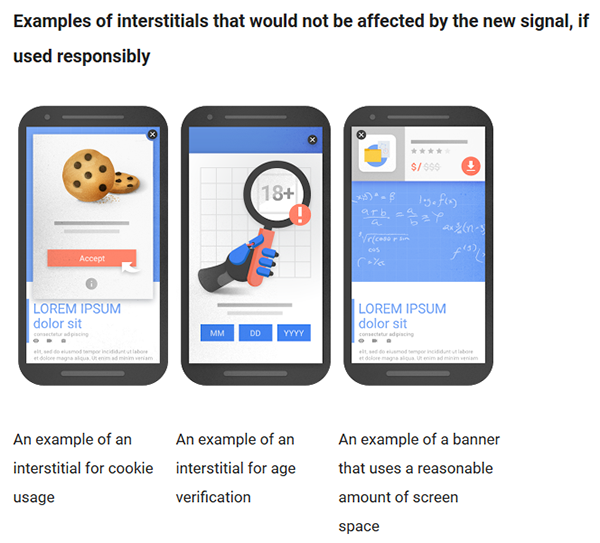 Source: Googleblog
There has for a long time been a battle between marketers and Google and of course, they each see things from a very different perspective. This new penalty will be without doubt a major blow to some marketers who have had great success with pop-up style methods. They also tend to produce high conversion rates, so there will need to be a new strategies for websites that have used these methods. The good thing is that it will not become a penalty until 10 January 2017 so there is time for website owners and digital marketing teams to address it.
Google actually giving an exact date for an algorithm change that will affect rankings is also quite unusual and indicates how seriously they will be taking non-compliancy of this update.
Some sceptics out there think that this change is more about trying to convince people not to use 'Ad Blocking' on mobiles which of course heavily impacts Google's revenue streams.
For exact details of the "intrusive interstitials" penalty can be found on the official Google blog here
Related posts