Facebook Security Update
You know that feeling when you log in to Facebook and then comes that dreaded pop-up with those additional security checks, some of which you set up eons ago and simply cannot recall. Well it's time for a whole new security feature which they have simply referred to as the 'Security Checkup'.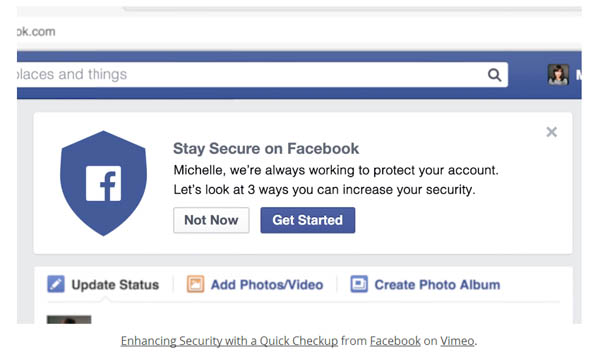 Security Check Up allows Facebook users to evaluate their existing security status and then take appropriate action, should it be necessary.
At least you won't get the pop up, instead you will see a reminder about it at the top of your news feed over the coming weeks.
What happens then? Well as soon as you select it Facebook will guide you through three simple steps to increased Facebook security.
Step one will allow you to log out of devices you no longer use or forgotten about, meaning that you don't have to be logged in on a device you would rather not be. Of course this is all up to you, not obligatory.
Ste two, should you wish to take it (sounds a bit like a Mission Impossible scene – sorry), allows you to turn on alerts that will force Facebook to let you know if your account has been logged into from another source. Many of us already have this feature anyway so nothing new here.
Lastly Facebook will povide you with tips for the best type of password for your account and how to set up a strong and unique password. They actually recommend using one that you don't have associated with any other account.
Obvious huh – Oh come on, you don't use the same password for everything still?
Happy Facebooking!
Related posts