Automated Google Ads
Google AdWords continues to evolve with the overall aim of ensuring you get the best ROI from your campaigns. We all knew that Google has employed 'machine learning' for search across both organic and paid, but this new revelation is mind blowing.
So what have they done?
The 'geeks' at Google AdWords HQ have been working hard over the last year or so and have now confirmed that they have 'automated' a process of new advert variations being added within an advertisers account.
It has not rolled out to all advertisers yet but they are 'live' testing on many different accounts and they have suggested that the uplift in performance is showing as between 5% and 15%.
The new adverts are automatically created by Google based upon the headline in the advert you set up yourself, the keywords you are targeting and the lading page for the advert.
All of this information is taken into account and then new adverts are automatically created to run alongside your own created ad.
You can see exactly which adverts in your campaign have been automatically created bu Google by the green label which states "added by AdWords".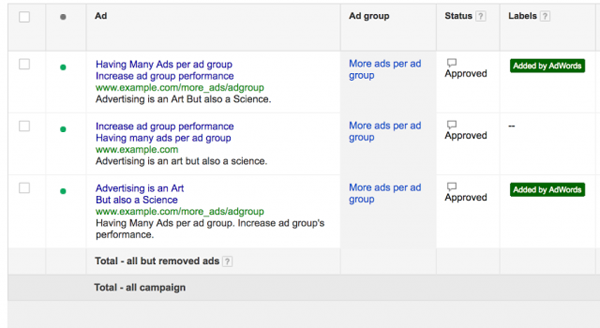 Although this at first sounds a little scary, it is actually a massive step forward in Paid Search and should help all advertisers improve their performance and ultimately do more business.
Related posts