Alphabet Inc
The breaking news late last night from the USA was the announcement from Google founders Larry Page and Sergey Brin that they are creating a new company in the restructure of Google. Google will now become a fully owned subsidiary of the newly created 'Alphabet Inc'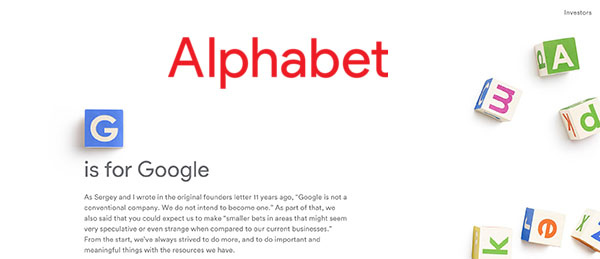 Google will of course continue its core search business along with the development of Android and YouTube, under Google but it is believed that newer initiatives such as the investment and research areas of Google will now sit under Alphabet.
Larry Page said that the restructuring of the business will actually simplify the structure and allow them to really focus on 'extraordinary opportunities'. Interestingly though is that the new company will develop new brands which sit outside of Google completely. Prior to this all innovation and new businesses were all Google businesses.
Some skeptics will put this restructure down to the recent law suits Google has faced in Europe with its search business, especially news services and privacy. This new structure will clearly but a space between new innovations and Google.
We will of course have to wait and see if it will affect search or whether everything will continue as normal. One thing is for sure, where Google is concerned there will always be some type of controversy.
Related posts