Adverts in WhatsApp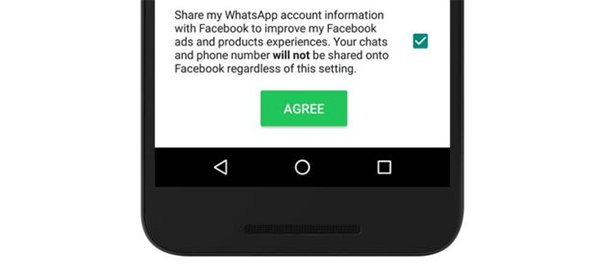 Do you remember when WhatsApp said it would never allow advertisers to target their users? Well that was before Facebook took over back in 2014. We are all used to the numerous updates to Facebook's privacy policies, and that has now rolled out to WhatsApp as well.
So what does this mean? WhatsApp will now be able to share YOUR phone number with various Social networks which in turn will give you more 'relevant' friend suggestions (because you don't know who your friends are) and of course, you will be targeted with adverts.
With this new information and data Facebook will be able to see that you have shared phone numbers with 'contacts' in WhatsApp, and then check to see whether you are friends on Facebook. If not expect notifications trying to convince you to become Facebook friends (because you really want to be Facebook friends with your boss or Doctor).
Don't worry (well not too much), as your messages are encrypted and cannot be read so they remain private but they will be able to see when you last used the service.
Not happy about this move from WhatsApp? Well here is some important information that probably will not be shared too often, or will be tiny print somewhere on an obscure page, YOU CAN OPT OUT.
Here is how to opt of od data sharing on WhatsApp
First Option
When you get the notification to accept the updated Terms of Service and Privacy Policy, tap 'Read'. You will then see a note at the bottom of the screen which you can uncheck and therefore opt out.
Second Option
If you have already accepted the updated terms you will be given just 30 days to choose to opt out of this new data sharing service.
Go to Settings > Account > Share my account info, from within the App itself. Then you can uncheck the box from there. Facebook will still receive data from you but not for targeting you with friend suggestions or adverts but to help fight SPAM, Abuse and Infringement, apparently.
Link to Opting Out instructions on the WhatsApp website
Related posts